Brilliance of Disney 🐭
A clear, long term strategy is priceless
Must Reads Friday 15th May 2020 | Today's Must Reads includes 24 hour KFC delivery, a man living in Indian airport, Pepsi's new play, Apple's new audio news and weird uses of Zoom.
Today's 5 tips are from wellness and nutrition coach Joanna Redfeather.
---
—Hit Of The Week—
If you have had one of those weeks, this tweet will give you that pick me up you've needed
---
—Must Reads—
---
—5 Tips—
Today's 5 tips come from the brilliantly smart (& long term friend) Joanna Redfeather. Joanna is a nutrition coach, specialising in energy & wellness. I always love speaking to Joanna and here are 5 knowledge bombs.
Pick something you truly love. Pick something you can see yourself loving at LEAST 3 months from now

Incorporate your core drivers - ask yourself what drives you? Are you driven by a sense of fun? Incorporate that. Driven by structure or seeing numbers grow? Incorporate that.

Start where you are NOW - Knowing where you are now is essential, and takes 100% honesty from yourself. There is no point starting where you were a few months ago at your peak, or where you were as a teenager!

Build it up in small increments using consistent efforts. Lock your focus on your end goal, knowing it will take TIME and that the journey must be all about persistence and consistency.

Track your progress so you can see your results over time, regardless of fluctuations. Remember that fluctuations happen along the way, life happens… yet encourage yourself to keep getting back on track
➡️ Connect with Joanna on LinkedIn
---
—Going Deeper—
Every time I see an announcement from Disney, I am reminded about the genius that was Walt Disney and his supporting teams all those years ago

Disney is going to release Hamilton (the show) on Disney+. 15 months ahead of the scheduled cinema (theatre) release and going to be an exclusive on Disney+

Whilst the theme parks are closed (theme parks are the moneymaker for Disney) Disney will double down on the great momentum Disney+ has with subscribers.
Remember Disney is long term aka a generational business (grandparents have the same affinity to Disney as kids do), even in the current climate short term (quarterly) thinking does not exist in their company and has the brand (moat) and back-catalog (content moat) to outlast any rival

Historically Disney have never struggled to be the first to do something or double down when others wouldn't
- I would even go so far that Walt Disney had the earliest form of Growth and Innovation teams, I recommend watching The Imagineering Story on Disney+.

Here are two brilliant illustrations that illustrate how well thought through Walt's brainchild was.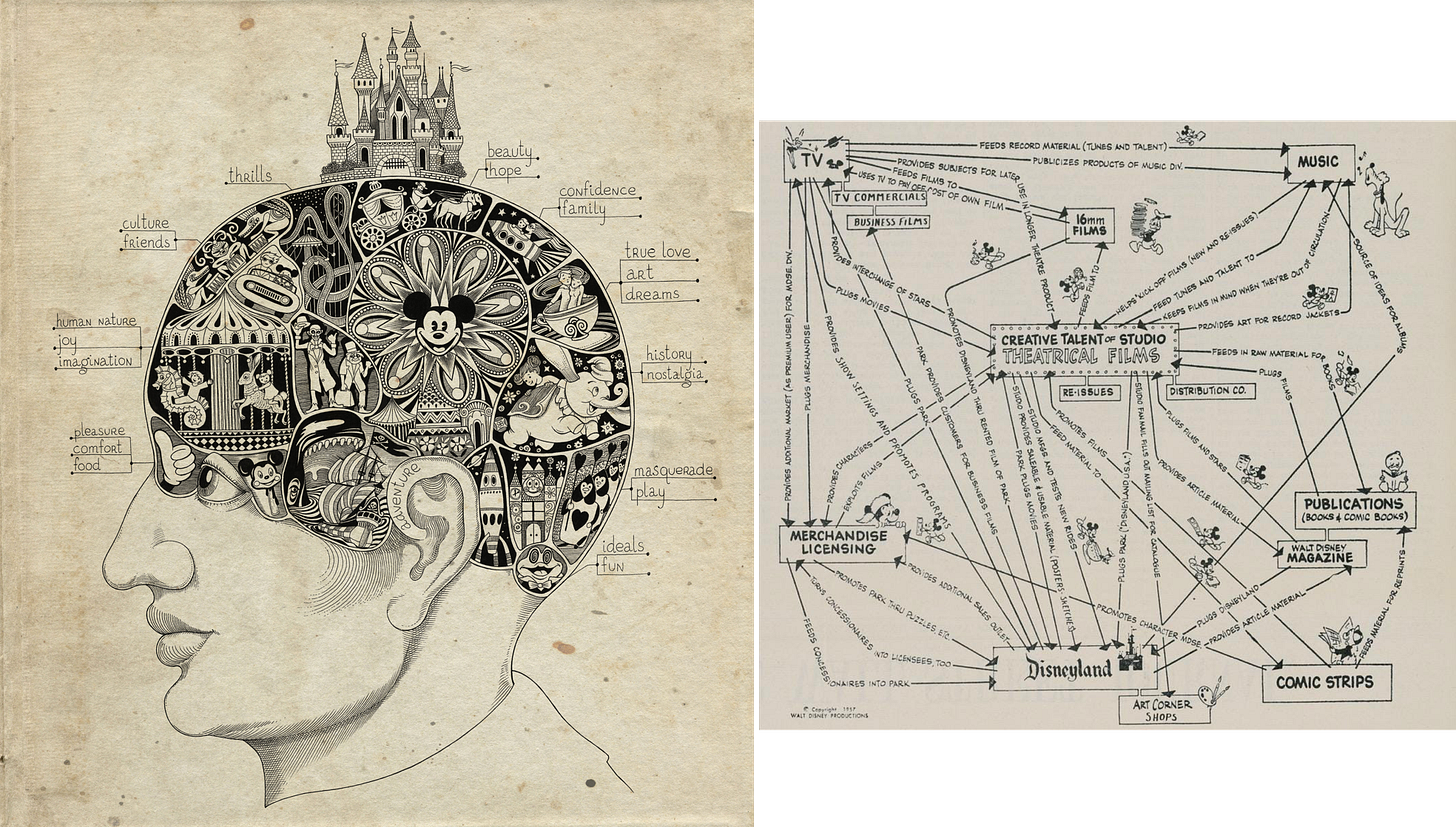 Pic Links - Disney Brain & Disney's 1957 strategy
—My Other Quickfire Snapshots—
- Here is why Amazon looking to buy AMC theatres (Odeon cinema) is super smart - Link
- Why 10-minute mobile-only Quibi has had problems - Link
---
Thanks for reading and enjoy your weekend ahead. See you again on Sunday Morning.
Danny Denhard 
~ Advisor & Consultant